A HISTORY OF THE HOOVER POLICE DEPARTMENT
1967-1970
1970s-1990s
The Present
1967-1970
The early years: 1967-1970
The city of Hoover was born on April 28, 1967, a tiny area "four blocks long and one block wide." The "four blocks long" consisted of Whispering Pines Circle, Deo Dara Drive, Greenvale Lane, and Valgreen Lane. The population of the young city was four hundred and six people.
Hoover's first police chief was sixty-five year old James R. Norrell, the retired Captain of Detectives for the Birmingham Police Department. Don Watts, Hoover's first mayor, had high hopes for Norrell, saying, "He came highly recommended from every law enforcement agent that we talked with." He then added, "Chief Norrell will assume his duties as police chief as soon as the city acquires a police car."
When Norrell got that car, a 1968 Ford Galaxy, the police department was housed in a tiny office in Hoover Fire Station One. Occasionally, the fire station restroom would function as a jail until the prisoner could be transported to Vestavia. In February of 1968 Chief Norrell hired Oscar Davis as a part-time patrol officer, and in March of 1968 Chief Norrell retired and passed the job of Chief of Police on to Davis, who would remain in the position for the next eight years, serving under Mayors Don Watts, O.E. Braddock, and John W. Hodnett during a period of rapid growth in the young city.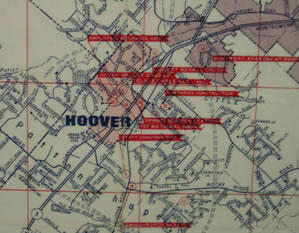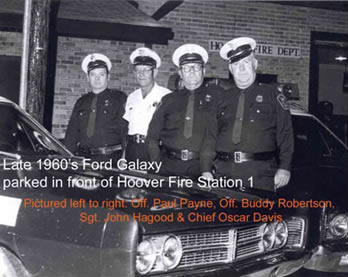 At the start of his tenure, in addition to his service as Chief of Police, Chief Davis also functioned as city inspector.  He wrote permits for new construction in the growing city which had expanded from a few streets around Whispering Pines Circle, to include much of the area currently in central Hoover north of I-459. The police force grew as well, expanding from a lone officer with a 1968 Ford Galaxy to seven officers, four Sergeants, and four dispatchers, with a fleet of six or seven mid 1970s Ford Police LTDs.  
Before hip surgery forced Davis's retirement in 1976, the police department was finally able to move from the shared office space at Hoover Fire Station One to offices built specifically for police personnel in the new City Hall.
1970s-1990s
The Present