The Patrol Division maintains a police presence throughout the city.  Officers respond to calls for services and conduct preliminary investigations on all crimes or incidents.
Day Shift: 6AM-2PM
Evening Shift: 2PM-10 PM
Night Shift:  10PM-6AM
Investigative Services Bureau
The Investigative Services Bureau has 8 divisions:
Special Victims Unit (SVU)
Crimes Against Persons (CAPERS)
Crimes Against Property (CAPROP)
Financial Crimes Unit (FICU)
Special Investigations Unit (SIU)
Crime Scene Investigations (CSI)
Interstate Criminal Enforcement (ICE)
Five Task Forces:  United States Marshals Service, Drug Enforcement Administration, Metro Area Crime Center, National Computer Forensics Institute, Compact 2020
Investigations Bureau General Number:  (205) 444-7589
The Support Services Bureau is made up of three divisions:
Corrections and Warrant Division
Training Division
Accreditation / CALEA (Commission on Accreditation for Law Enforcement Agencies)
Hoover City Jail
From 1971 until 1985 the first Hoover City Jail consisted of two cells situated next to the communications area in Hoover's "first free standing" City Hall located at 1631 Montgomery Highway. Patrol officers processed inmates and the dispatchers supervised the inmates because there were no Hoover Detention Officers assigned to supervise jail inmates.
In 1986, the Hoover Police Department moved into the Hoover Municipal Center at 100 Municipal Drive. The jail was upgraded to six single occupancy cells and three holding cells in the booking area. Patrol officers continued to process inmates and dispatchers continued to perform the additional duty of supervising inmates.
In December 1986, the police department hired its first detention staff. During the early 1990s, the jail cells were "double-bunked" which increased jail capacity from six cells to sixteen cells. With the rapid growth of Hoover and the continual growth of the police department throughout the 1990s, the jail maintained full capacity and on occasion exceeded capacity, thus, proving the need for a larger jail facility.
The Hoover City Jail moved to its current location at 2020 Valleydale Road on August 2, 2004. The current jail has sixty-four cells located in four different cell blocks. The facility also has medical cells, isolation cells, and holding cells in other areas of the facility bringing the total number of available beds to seventy-two. The current jail staff consists of 1 Lieutenant, 1 Sergeant, 2 Detention Supervisors, 4 Shift supervisors, and 17 Detention Officers performing the daily supervision of inmates.
Lieutenant Julius Wainwright, Commander
Administrative Services Bureau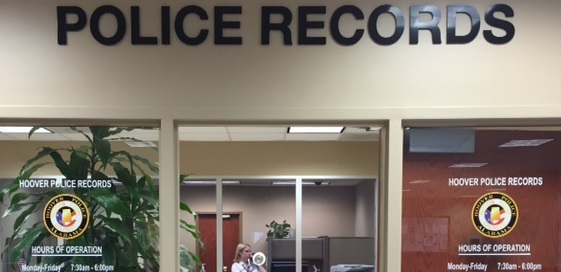 The Administrative Services Bureau consists of three divisions:
Police Records

Public Safety Information and Technology

School Resource Officer Division
The Hoover City School System and the City of Hoover believe that the use of police officers in the school system offers school employees, students and families, another tool for preventing crime in our community.
School Resource Officers are commonly referred to as SRO's. These officers receive specialized training through the National Association of School Resource Officers. They serve as a visible presence to deter disorder during peak movement times for students, and are accessible and approachable as informal counselors and mentors to students. Additionally, they assist administrators by checking for weapons and drugs, and they develop early intervention techniques to prevent violence.
SRO's operate within the "Triad Concept". Included in this concept is the role of Law Enforcement, Informal Counselor and Teacher.
A diverse curriculum is provided by SRO's to students at the elementary, middle, and high school level.
The #1 goal of the SRO program is to "bridge the gap" between students and law enforcement.