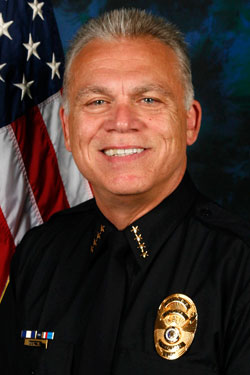 Chief Nicholas Derzis was born in Berlin , Germany . As the son of a Colonel in the United States Army, he lived all around the world. He lived in Arlington , Virginia for nine years until moving to Alabama in 1977.
Chief Derzis began his law enforcement career as an officer with the Hoover Police Department in 1979 and has been promoted steadily through the ranks. He was promoted to Assistant Chief of Police in December 1999 and to Chief of Police in January 2005. Throughout the years, he has been responsible for numerous initiatives within the department, such as the Special Response Team, School Resource Officer program, and the development and construction of a new police operations center and jail facility.
Chief Derzis holds a Bachelor's degree in Criminal Justice from Samford University, and is a graduate from the FBI National Academy.
He is a member of the FBI National Academy Associates, International Association of Chiefs of Police, Alabama Association of Chiefs of Police, Metropolitan Criminal Justice Executive Association, the Law Enforcement Executive Development Association and the Chiefs Representative to the Board of Directors of the National Association of School Resource Officers (NASRO).