Admin Services Bureau Commander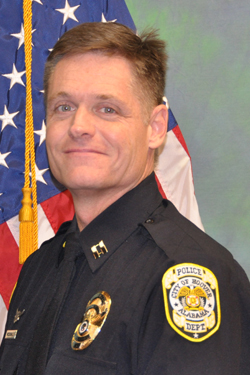 Captain Scott McDonald obtained his criminal justice degree from the University of Alabama at Birmingham. He began his law enforcement career with the City of Irondale Police Department in 1998. He joined the Hoover Police Department in 2001. During his career, he has served as a uniformed patrol officer, K-9 handler, Field Training Officer (FTO), Instructor, Special Response Team (SRT) Member, Honor Guard Member, and Detective. He has been promoted through the ranks and held supervisory positions in Patrol, Administration and Investigations Divisions.
He was promoted to Captain in March 2021 and assigned as commander of the Administrative Services Bureau, which includes School Resource Officers (SROs), Public Safety Information and Technology (PSIT), and Police Records.